Specialists in Machine Safety Integration "Providing Practical Safety Solutions"

Electrical - Mechanical - Pneumatic - Hydraulic
Design - Manufacture - Install - Upgrade - Integrate

Our mission at Australian Safety Guarding is to provide practical safety solutions.

We specialise in the design, manufacture and installation of safety guarding and control systems for industrial machinery, up to Category 4 risk control levels in accordance with the Australian Standards.



We have been providing industrial electrical, mechanical, pneumatic and hydraulic services and support to the manufacturing industry for many years.

By providing a range of services we are constantly endeavouring to take all practicable steps to eliminate hazards within the workplace.

Our aim is to assist companies create a highly productive, yet safe and compliant working environment by offering products and services, including: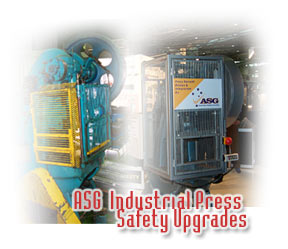 ASG developed what we believe to be the 1st fully compliant guarding configuration for C Frame presses in Australia. This involved development of proprietary configurations of integrated locking, shut off and safety mechanisms.
All safety guarding upgrades undertaken by ASG comply with Australian Standard AS4024-1, "safeguarding of machinery" and relevant electrical standards including AS3000, AS 3008, AS4836 and AS4360-99